Summary
Friends was known for featuring A-list guest stars who often stole the show with their memorable performances.
Jon Favreau (Pete Becker), Winona Ryder (Melissa Warburton), Brad Pitt (Will Colbert), and Bruce Willis (Paul Stevens) all delivered standout performances in their respective episodes.
Lisa Kudrow's portrayal of Phoebe's twin sister Ursula, James Michael Taylor's deadpan portrayal of Gunther, and Maggie Wheeler's lovable character Janice were also fan favorites and added comedic value to the show.
The iconic cast of Friends occasionally shared the screen with recurring characters or guest stars who absolutely stole the show. Friends made a habit of recruiting various A-listers to have one wild adventure with the group or to play a friend, family member, or love interest over the course of a longer arc. On more than one occasion, humor was derived from references to the guest actor's personal life and career.
Although the main characters usually took center stage in the beloved sitcom, the funniest guest stars from Friends sometimes gave more memorable performances than the show's six central actors. They brought excitement to the gang's life and gave viewers new arcs to follow. And even when Friends' celebrity cameos didn't make any sense, they became hilarious moments to look back on. Of course, the guest stars who stole the show proved more unforgettable — so much so that their stints still stand out years after Friends' ending.
Pete Becker (Jon Favreau)
Recurring character in Friends season 3
Jon Favreau turned down the role of Chandler, but he joined Friends in season 3 as Pete, a tech millionaire whom Monica briefly dates. Pete gets to do crazy things like leave a $20,000 tip for Monica or fly them both to Italy on a whim, yet he is a fully developed character and espouses his personal philosophy of going after what he wants and never giving up. Pete and Monica break up when Pete keeps getting injured in his mission to become the "ultimate fighting champion." Still, while the pair are together, Pete manages to steal nearly every scene he's in with his over-the-top personality.
Melissa Warburton (Winona Ryder)
Season 7, Episode 20: "The One With Rachel's Big Kiss"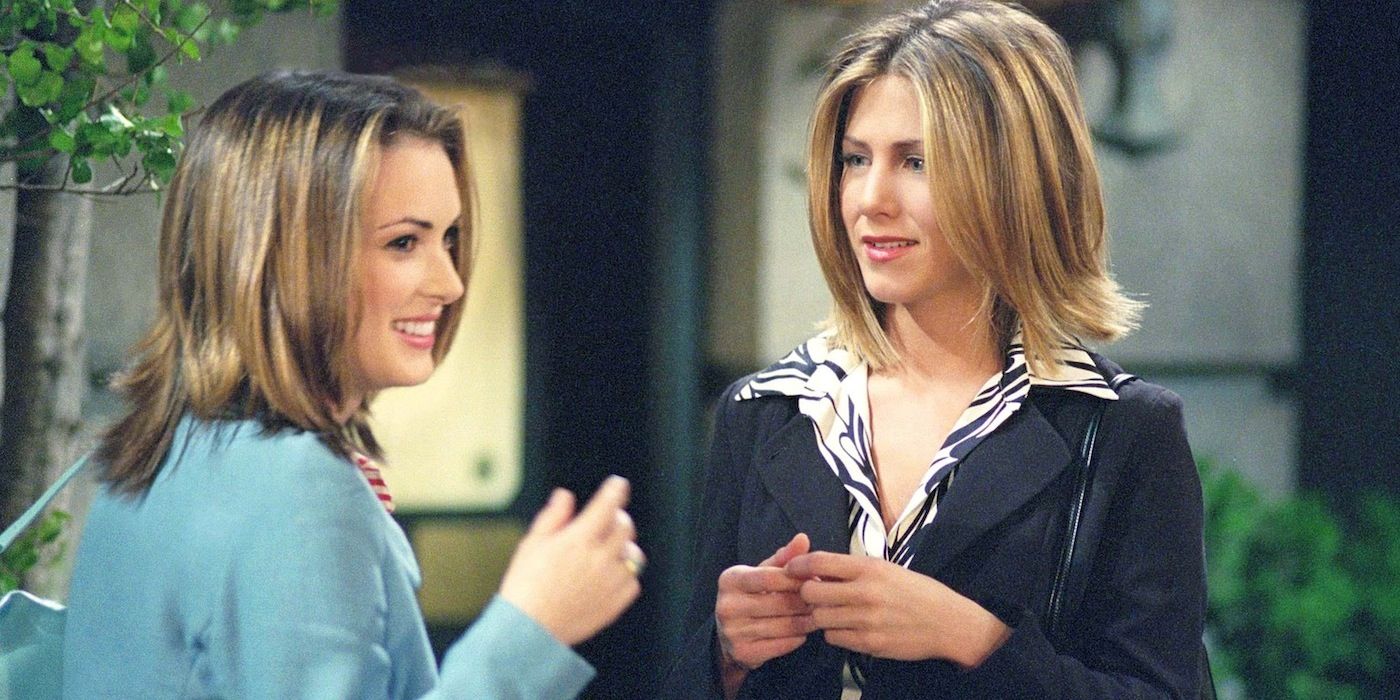 Melissa Warburton is Rachel's former sorority sister, who pretends to have no memory of her and Rachel's drunken kiss. In Friends season 7, Rachel, determined to prove to Phoebe that she is not "vanilla," abruptly kisses Melissa. Melissa then confesses her love for Rachel. Winona Ryder's Friends cameo sees her giving a memorable performance. Her attempts to pretend that she has no idea what Rachel is referring to are kind of obnoxious, but they certainly take the spotlight off the other characters.
Will Colbert (Brad Pitt)
Season 8, Episode 9: "The One With the Rumor"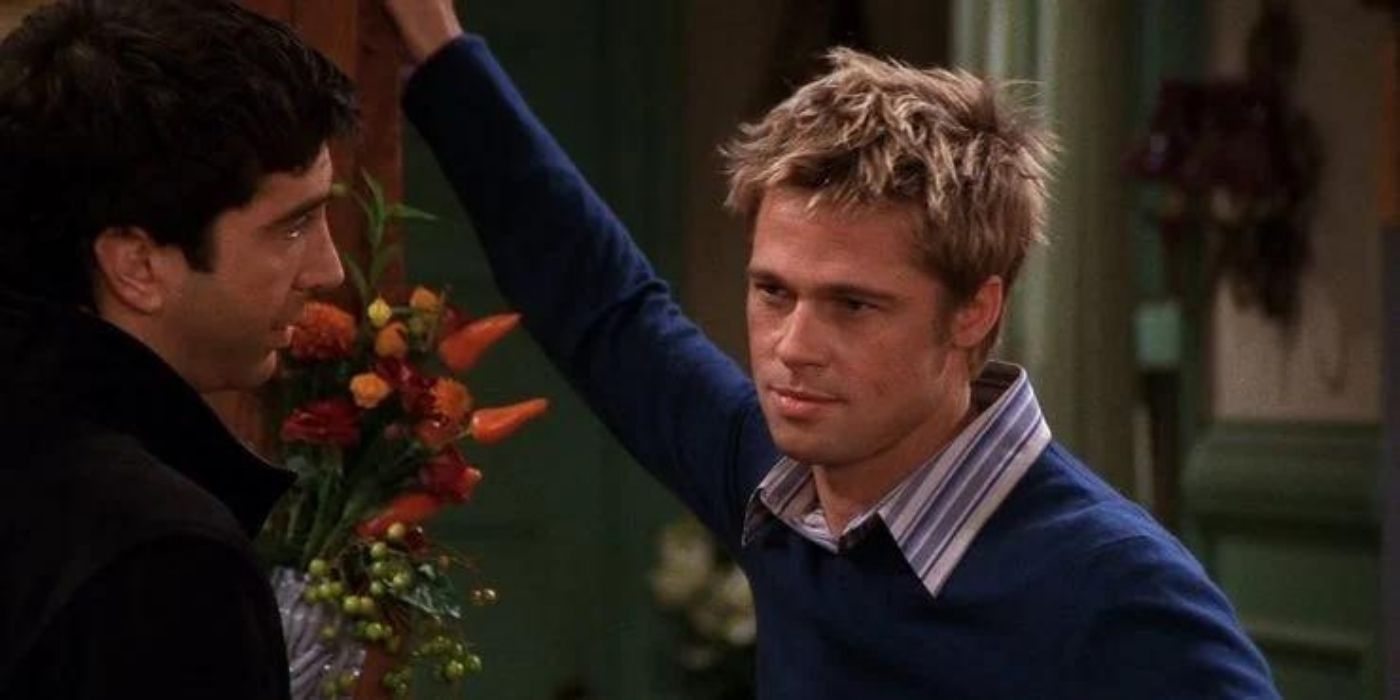 Brad Pitt plays Will in his Friends cameo, a high school classmate of Ross, Monica, and Rachel who passionately hates Rachel. Will makes random biting comments toward Rachel and is the target of Phoebe's not-so-subtle flirtations. The humor of this situation is built upon Pitt's marriage to Jennifer Aniston at the time, as well as the fact that he was then considered one of the most attractive people in Hollywood. Needless to say, Pitt's appearance was a show-stopper. He was even nominated for an Emmy for Outstanding Guest Actor in a Comedy Series.
Paul Stevens (Bruce Willis)
Recurring character in Friends season 6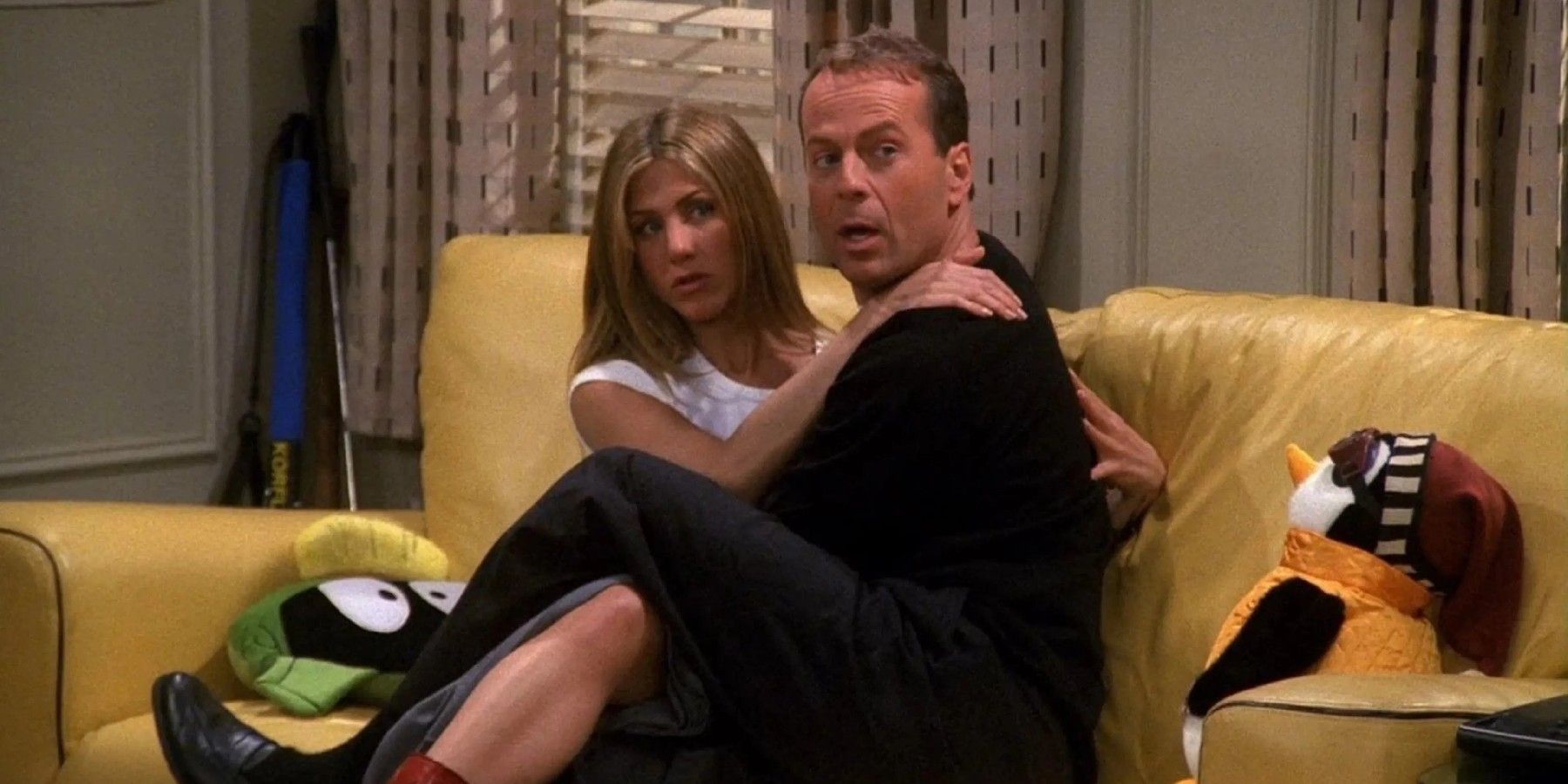 Bruce Willis appears in Friends as Paul, the father of Elizabeth, a college student Ross is dating. Paul also dates Rachel for a few episodes. Willis dominates every scene he is in because Ross is intimidated by his girlfriend's father, a dynamic that is emphasized by Willis' career of playing tough action heroes. Willis agreed to guest star after losing a bet to Matthew Perry. Perry bet that his and Willis' movie The Whole Nine Yards (2000) would be a hit at the box office, and Willis apparently disagreed. When Perry turned out to be right, Willis had to appear on Friends.
Ursula Buffay (Lisa Kudrow)
Recurring character throughout the series
Every time Phoebe's twin sister makes an appearance, Lisa Kudrow is inexplicably able to steal the show — from herself. Self-centered Ursula forces her caring sister to clean up her messes, and Phoebe even pretends to be Ursula to give Joey a proper breakup. They are usually shown face-to-face for an easy splice, but this also elevates the sense of confrontation between them. The writers made Phoebe a twin because Ursula was already an established character on the sitcom Mad About You.
Gunther (James Michael Taylor)
Recurring character throughout the series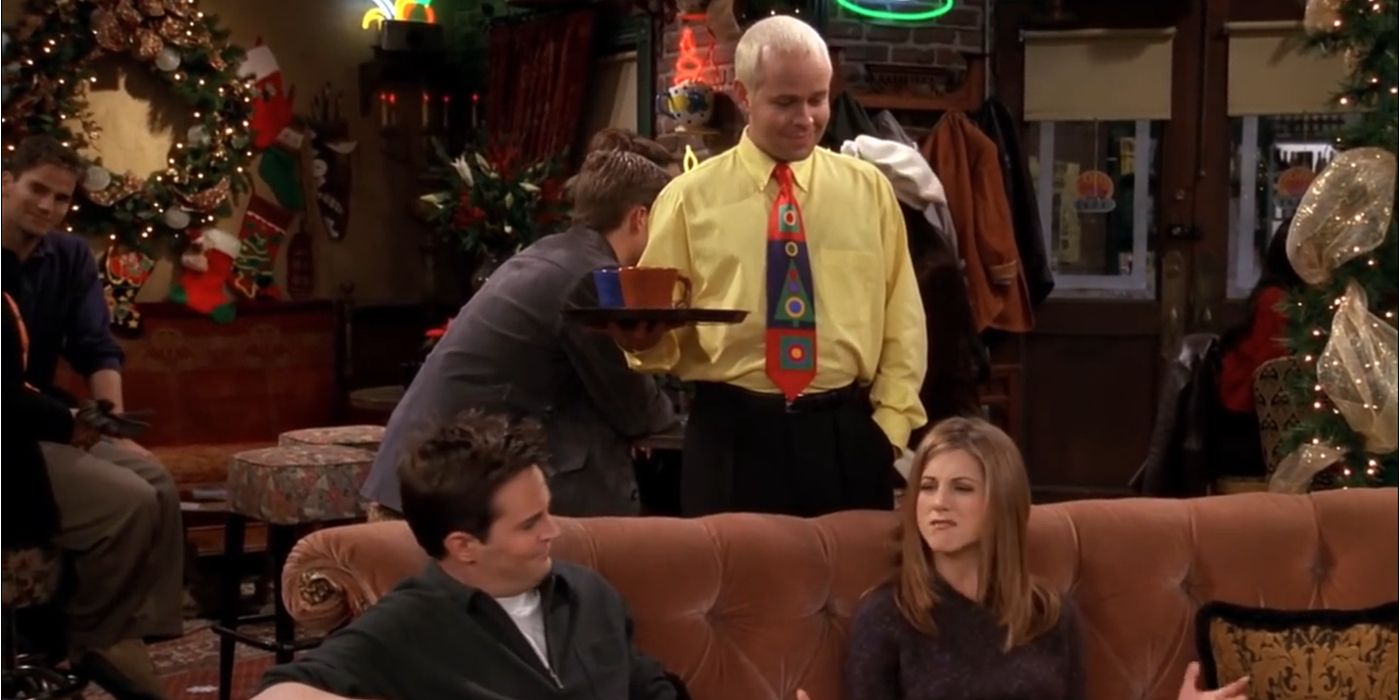 Gunther appears in more episodes of Friends than any other character, aside from the main cast. Gunther first appears in Friends season 1, episode 2, but he doesn't speak until season 2. He usually stands in the background and pines over Rachel. He will give her anything she asks for, but his quiet, serious performance is a recurring gag in the series. It is also funny to see him respond with deadpan humor to the group whenever they talk to him. When Joey asks him where Chandler is in season 4, episode 8, Gunther hilariously responds "I thought you were Chandler," showing how oblivious he is to everyone but Rachel.
Isabella Rosellini (Herself)
Season 3, Episode 5: "The One With Frank Jr."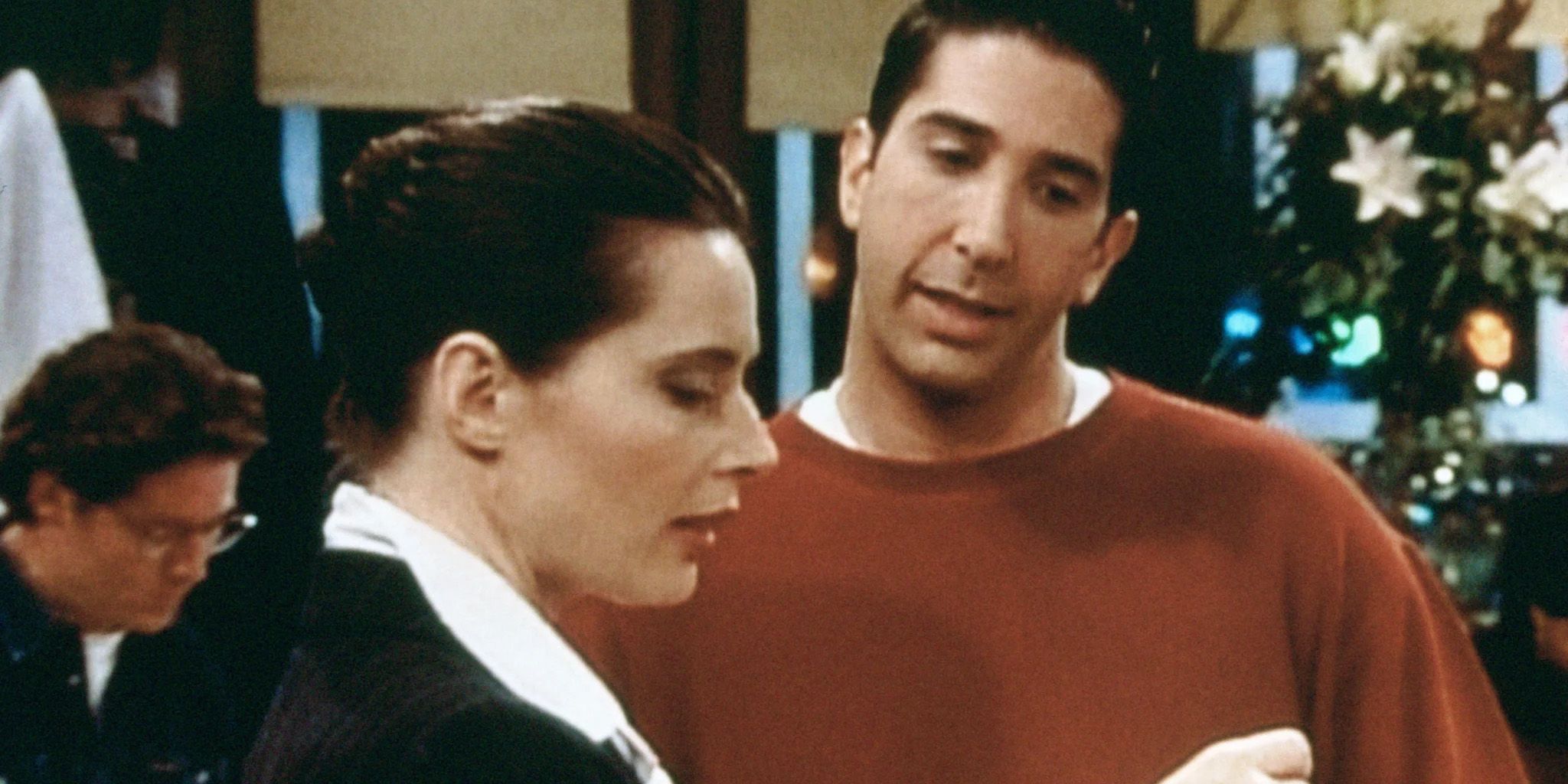 In "The One With Frank Jr.," the gang is debating which five celebrities they would each want to sleep with without their partner getting mad at them. Chandler tells Ross that he shouldn't pick Isabella Rosellini because he should choose people he is more likely to run into. This line sets Rosellini to steal the show the moment she walks into Central Perk. She's also great in the scene where Ross attempts to hit on her and she bluntly turns him down.
Related: Every Celebrity Freebie Actor Who Actually Appeared On The Show
Susie Moss (Julia Roberts)
Season 2, Episode 13: "The One After the Superbowl: Part 2"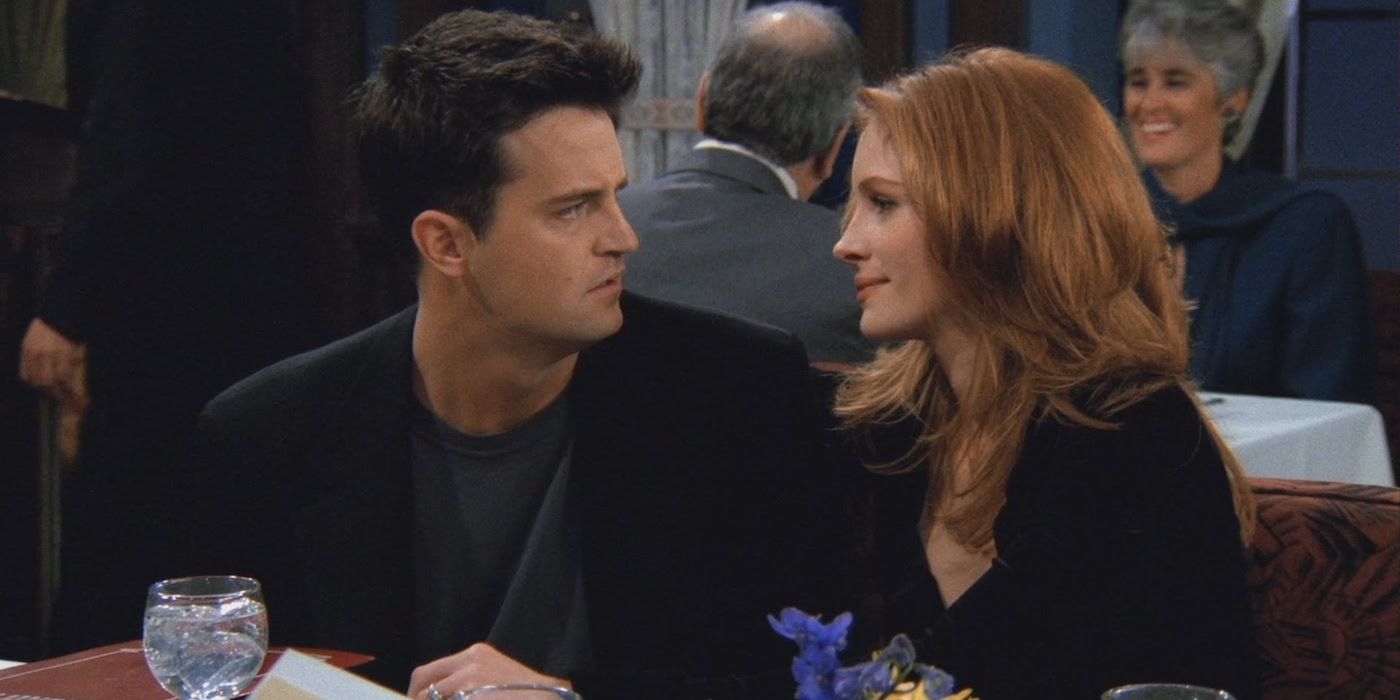 Julia Roberts plays Chandler's old classmate from elementary school, who is out for revenge after Chandler played a humiliating prank on her in the fourth grade. Roberts pulls off an abrupt change in character when she stops seemingly trying to seduce Chandler and leaves him stranded in a men's restroom wearing only women's underwear. She spitefully and memorably says, "Why don't you call me in 20 years and tell me if you're still upset about this?" Roberts was dating Perry at the time and agreed to be on the show if she was part of Chandler's storyline. Putting the two together was the right choice, as her cameo was hilarious.
Jack Geller (Elliot Gould)
Recurring character throughout the series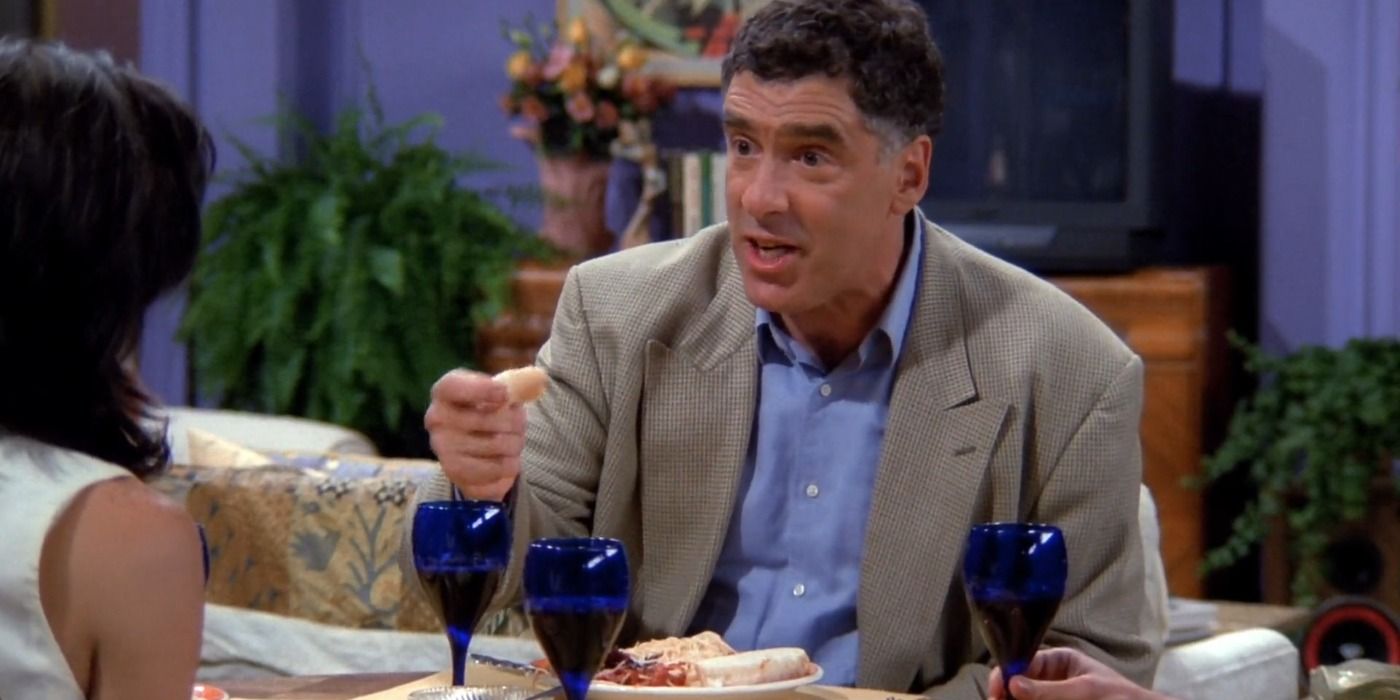 Every time Elliot Gould appears as Ross and Monica's father, he is eccentric but charming. When the Geller siblings' parents first appear in Friends season 1, episode 2, it looks like Jack is only going to be part of a running gag where the parents unfairly judge Monica. However, his character is developed further. Gould can keep up with the comedic talent of the rest of the cast while also delivering heartfelt moments with both of his on-screen children. Jack's memorable scenes include comforting Monica after her after her breakup with Richard in season 3 and gifting her a Porsche in season 7.
Related: Friends: 10 Most Underrated Supporting Characters
Parker (Alec Baldwin)
Season 8, Episode 18: "The One in Massapequa"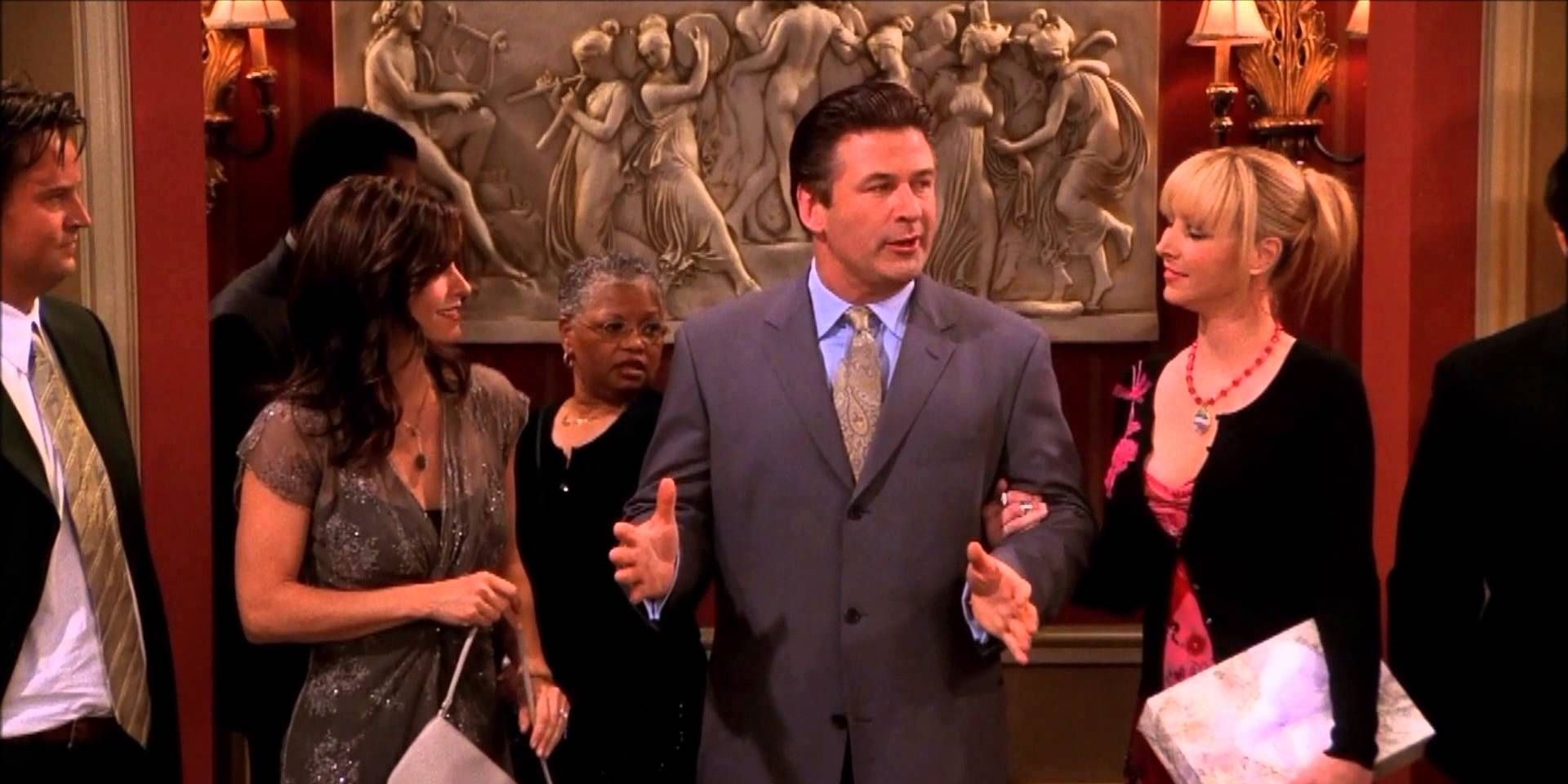 According to Phoebe, Parker is "like Santa Clause on Prozac in Disneyland, getting laid." Alec Baldwin certainly meets that description, which is why he steals the show as Parker, the overly positive man Phoebe brings as her date to the Gellers' anniversary party. Baldwin is hysterical every time he points out the most mundane things with over-the-top enthusiasm. Phoebe initially defends him when she hears the others mocking him, but she begrudgingly admits that being with him is exhausting.
Roy, The Stripper (Danny DeVito)
Season 10, Episode 11: "The One Where the Stripper Cries"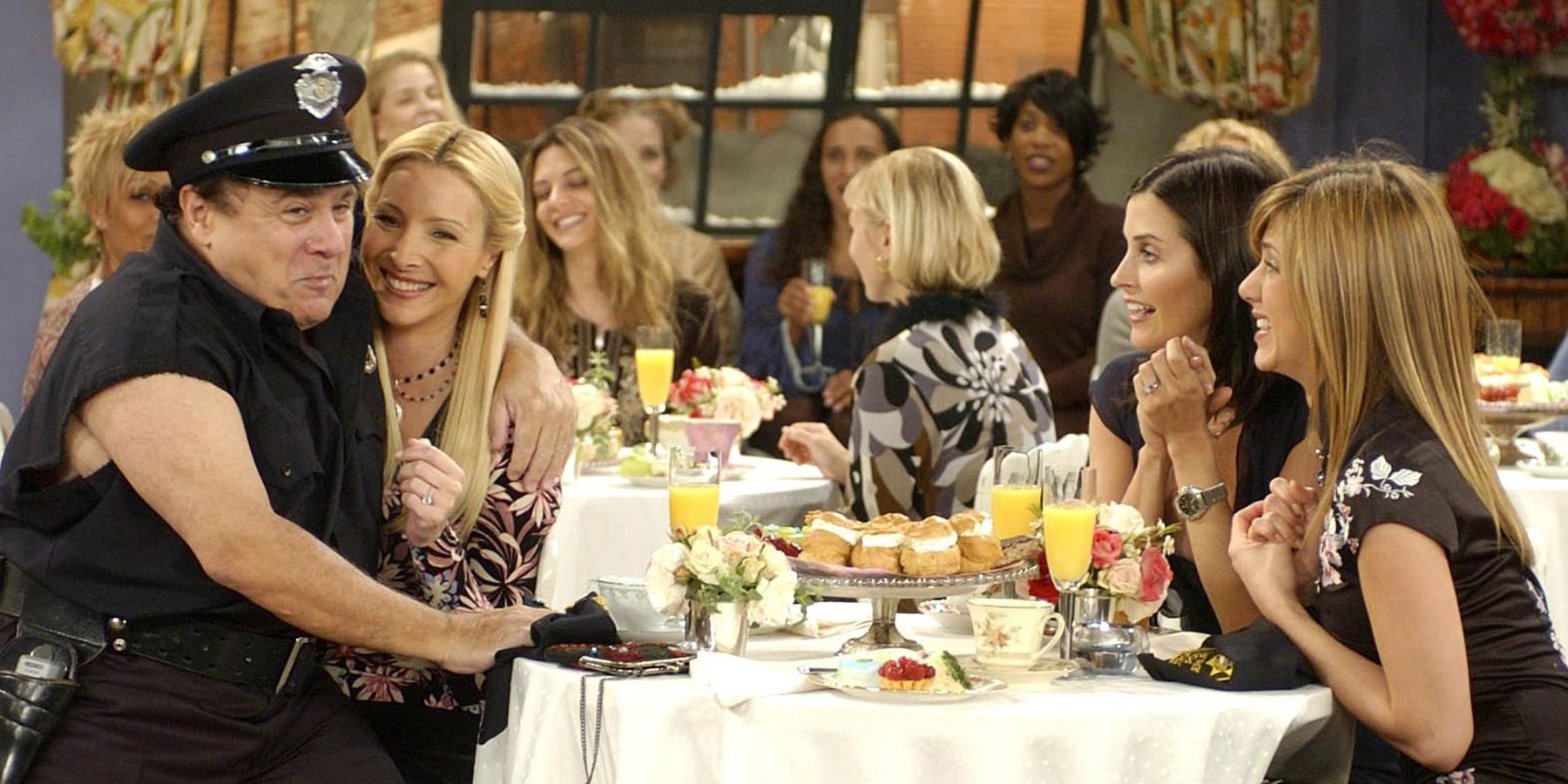 As the series heads into its final episodes, Danny DeVito cameos as a stripper that Rachel and Monica hire for Phoebe's bachelorette party. When Phoebe is disappointed because he is not a young buff man, Roy cries about being past his prime. The women all cheer him up and suggest that he teach stripping to others before he gives a final performance for them, this time to a cheering crowd. DeVito was a fitting choice for one of the last famous guest stars of the series, and he was nominated for Outstanding Guest Actor in a Comedy Series at the 2004 Emmys.
Related: Why Friends Guest Stars Were Terrified To Be On The Show
Tim & Tomas (Billy Crystal & Robin Williams)
Season 3, Episode 24: "The One With the Ultimate Fighting Champion"
The friends are sitting on their usual couch at Central Perk when they are distracted by an outlandish conversation between the two men sitting next to them. Tim (Billy Crystal) is a straight-faced guy who is comforting his emotional friend, Tomas (Robin Williams), who is worried that his wife is cheating on him. The friends give up on their own conversation and begin eagerly listening in when Crystal's Tim confesses that he is the man sleeping with Tomas' wife. Joey tries to ask a question and Tim ironically snaps back that they are having a private conversation.
Crystal and Williams' cameo was completely improvised, including Matt LeBlanc's line. The actors stumbled upon the Central Perk set because they were on a different set nearby, and they were asked to stay for a cameo. As expected from two master comedians, Crystal and Williams' scene is so bizarre and dramatic that it momentarily steals attention away from the main story. The altercation drives every other thought out of even the characters' minds.
Janice (Maggie Wheeler)
Recurring character throughout the series
Everyone knows that when one of the most recognizable voices on television says "Oh. My. God!," it is going to be a particularly hilarious episode. Janice, first introduced as a woman Chandler is trying to break up with in season 1, episode 5, is a beloved part of Friends. She shows up in unexpected places to put all the friends on edge. Maggie Wheeler successfully plays a very colorful character, who believably irritates the main cast but is still surprisingly earnest. Janice adores the main Friends characters: every time she runs into one of them, she is thrilled to see them again, drawing attention to her reaction.
Friends is currently streaming on Max.
Friends

Release Date:

1994-09-22

Cast:

Jennifer Aniston, Courteney Cox, Lisa Kudrow, Matt LeBlanc, Matthew Perry, David Schwimmer

Genres:

Comedy, Drama, Sitcom

Seasons:

10

Story By:

Marta Kauffman

Writers:

David Crane, Marta Kauffman

Network:

NBC

Streaming Service(s):

NBC

Franchise(s):

Friends

Directors:

David Crane, Marta Kauffman

Showrunner:

Marta Kauffman