The Big Picture
Braxton Family Values was a popular show that focused on Toni, Tamar, and their three other sisters, and it became a launch pad for Tamar's music career.
The final two seasons of the show were filled with controversy, including a pay dispute and Tamar's suicide attempt, leading to tension with the network.
If the show returns without Tamar and after the death of Traci, it is unlikely to have the same magic and effect as it did when it first premiered.
Braxton Family Values premiered on WeTV in 2011 and focused on Braxton siblings Toni, Traci, Towanda, Tamar, and Trina, and their mother, Evelyn Braxton. Toni, being the most well-known of the siblings, was the initial focus, as she was in the process of reviving her R&B career. The show became a quick hit among WeTV viewers, and soon, Toni was not the only star in the spotlight. The second youngest of the siblings, Tamar, quickly became a fan favorite thanks to her large personality and hilarious catchphrases. The series led to spin-offs for Tamar, including her show with her then-husband, Vincent Herbert, which was aptly titled Tamar & Vince. Braxton Family Values was a launch pad for Tamar's solo music career, and she released two albums during the series' run. Siblings Traci and Trina also worked on solo projects during the show.
The series ran for seven seasons that spanned a decade, and its final two seasons were rife with controversy. Season 6 of the show was when the Braxton sisters discovered discrepancies in the pay they were receiving. The ladies shared later that they were being paid less than the camera operators, something that led them to go on strike in season 6. The strike caused strife within the family, as Traci opted to continue filming. The sisters were furious with Traci for crossing the picket line, and there was clear tension when they went back to filming between them. There was also Tamar's suicide attempt, something that they decided to feature on the show, leading to much ire toward the network from Tamar. She blasted WeTV on social media for exploiting her pain for ratings. She quit, announcing that she'd never work with the network again. The final season of Braxton Family Values was incredibly short in comparison to all the prior seasons, and the relationship between the Braxtons and WeTV seemed irreparable.
Braxton Family Values
The tight-knit Braxton sisters, Grammy-winning artist Toni Braxton, Traci, Towanda, Trina and Tamar, and their headstrong mother share an inside look at their lives and the drama of family chaos.
Release Date

April 12, 2011

Cast

Traci Braxton, Toni Braxton, Trina Braxton, Towanda Braxton

Main Genre

Reality TV

Genres

Reality TV

Rating

TV-PG

Seasons

7
'Braxton Family Values' Will Never Be What It Once Was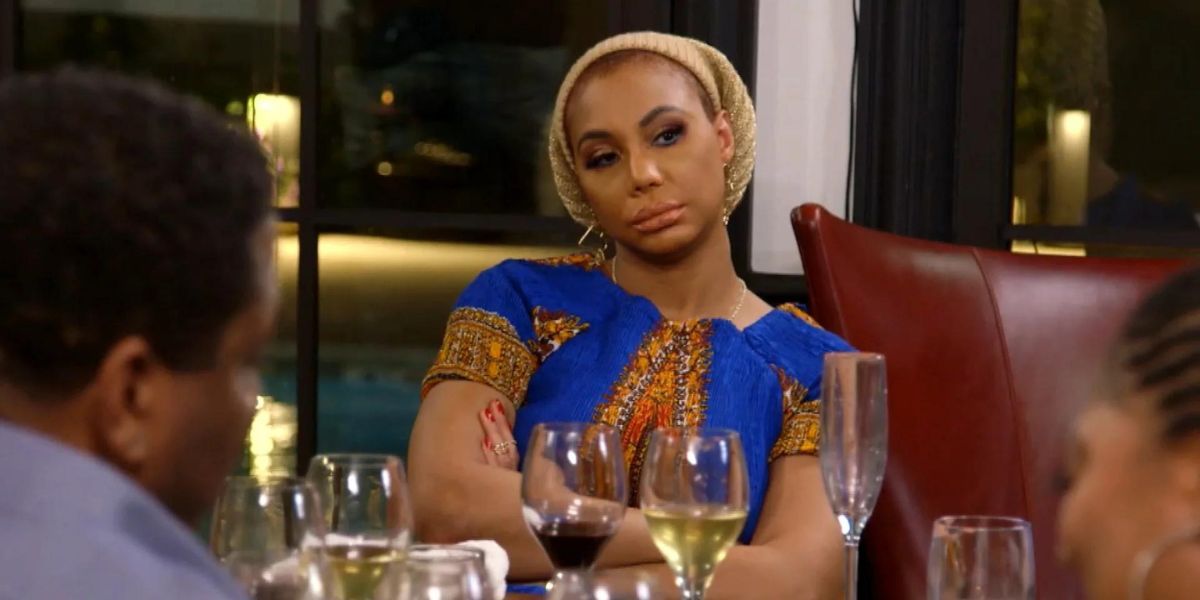 The best parts of Braxton Family Values all involved the interpersonal connections between the sisters. The impromptu songs, fights, and tender moments were raw, real, and enjoyable to watch. The family dynamic was engaging when Braxton Family Values premiered, but how would it be now? Things have drastically changed in the Braxton family. Traci Braxton passed away from esophageal cancer in 2022, which automatically puts a shadow over the series' potential return. The idea of a return without Traci's presence doesn't feel right, as she was an important piece in their familial puzzle, even if she wasn't necessarily treated that way. There is also an adversarial relationship between WeTV and Tamar Braxton.
RELATED:
'Braxton Family Values': Tamar Braxton's Immaturity and Entitlement Led to Her Downfall
Tamar has made her hatred for WeTV clear ever since the aftermath of her suicide attempt. She has publicly stated that the network chose to ignore her mental health issues and that they ignored her cries for help when she sent them. In a lengthy social media post in 2020, Tamar expressed her sincere feelings about the network, providing clear reasons as to why she'd never work with them again. In one part of her post, Tamar said, "I was betrayed, taken advantage of, overworked, and underpaid. I wrote a letter over 2 months ago asking to be freed from what I believed was excessive and unfair. I explained in personal detail the demise I was experiencing. My cry for help went totally ignored. However, the demands persisted." With all the bad blood between Tamar and WeTV, it's most likely that a Braxton Family Values reboot will not include Tamar. Can Braxton Family Values survive without Tamar? Probably not, as her presence on the show was key to the comedy and drama that fans love the most about the show. If Braxton Family Values does make a return to WeTV without Tamar, will it have the same effect as it had when it first premiered? Probably not.
The first three seasons of Braxton Family Values are available to stream on Hulu.
Watch On Hulu Now